Benefits of Dental Implants

Tuscumbia, AL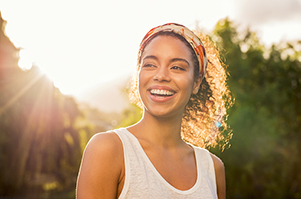 There are several restoration options when it comes to replacing missing or damaged teeth. Crowns, bridges, and dentures have been around for years as the top tooth replacement choices. However, with many advancements in the dental field, one option now stands above all the rest – dental implants. Implants offer benefits that other tooth replacement treatments, such as dentures and bridges, cannot possibly offer.


What is a Dental Implant?

A dental implant is a metal post that is surgically embedded into your jaw to mimic your natural tooth root. The implant is left for a few weeks to bond with the jawbone in a process called osseointegration - to form a stable foundation for the placement of the artificial tooth. Once this process is successful, an abutment is placed over the implant, allowing it to be connected to the artificial tooth.


Who is a Candidate for Implants?

To qualify for dental implants, you need to have good dental and overall health. The ideal candidate has healthy gum tissue that is free of any gum disease. Adequate bone in your jaw is also required to support the implant.


Benefits of Dental Implants

Dental implants are an innovative solution for all those with missing or damaged teeth. Here are some of the top benefits that this tooth replacement solution offers.


Restores Your Smile

Tooth loss has a significant impact on your smile, which can, fortunately, be restored through implants. Dental implants come in various shapes and sizes, and are designed to match the color of your natural teeth, enabling them to seamlessly blend in with the rest of your teeth. Since they fit perfectly with your surrounding teeth and are hard to tell apart, dental implants help your smile go back to normal.


Prevents Bone Loss

The jawbone requires stimulation to rebuild itself, which is provided by the movement of your teeth. Tooth loss also causes the loss of bone mass in the jaw. Dental implants are the only tooth replacement solution that helps restore jawbone stimulation and prevent bone loss.


Restores Bite Force

Since dental implants are fixed into your jaw with a metal post, they provide you the same aesthetics and force as your normal teeth. Dental implants restore your bite force, allowing you to eat the same way you do with your natural teeth. Other tooth replacement options don't restore your bite force as much as dental implants since they aren't anchored in place.


Easy to Care for

Dental implant care is very simple. Implants become a permanent part of your teeth, allowing you to treat them like your natural teeth. This includes regular brushing and flossing, frequent use of mouthwash, irrigation, and yearly professional cleanings.


Permanent Tooth Replacement Solution

Titanium is the most popular dental implant material that is anchored into your jaw. Since its bonds with your jawbone through osseointegration, it becomes a permanent part of your mouth. Unlike other tooth replacement options, such as crowns and dentures, once you get an implant, it can last you for many years, if not a lifetime.

Schedule a consultation with us at Singing River Dentistry to find out more about dental implants. Call us at 256-712-2240 to book a consultation now.