CEREC Crown

Tuscumbia, AL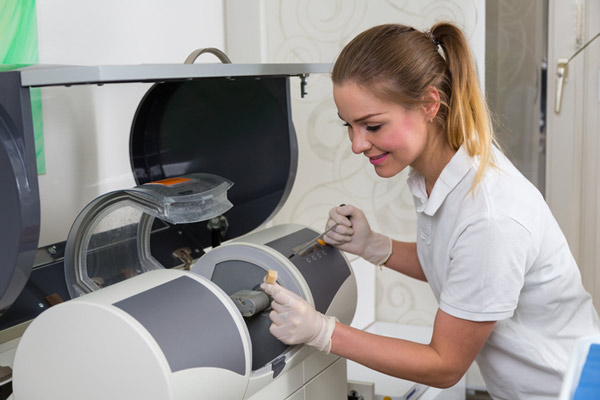 Dental crowns have been around for a while and they can definitely protect your tooth against further decay and also help you to enjoy your favorite meals without having to worry about any sensitivity issues. Dental crowns are part of oral health care and work well for complete tooth restoration too.

However, dental crowns take a long time to get designed and you may have to wait before your crown is fitted.

Thankfully, these days you can get CEREC dental crowns, which are same day dental crowns. This makes it convenient for you to flash your smile without having to wait.

Not sure if a CEREC dental crown is right for you or your current situation? Read more below about these incredible crowns. At Singing River Dentistry we provide this cutting-edge technology to our patients in the Tuscumbia, AL area.


What Is a CEREC Same Day Crown?

Chairside Economical Restoration of Esthetic Ceramics (CEREC) technology has given a new name to same-day dental crowns. You can get a permanent crown placement in just one visit instead of having to schedule multiple appointments.

CEREC technology uses Computer Aided Designs (CAD) and Computer Aided Manufacturing (CAM) to design and create a permanent crown in our dentists' office.

The process involves taking images of your tooth and designing the perfect crown.


What Are the Benefits of CEREC Crowns?

You may be wondering, "should I get same day crowns?" A CEREC crown offers many benefits.


Convenience

The biggest benefit of same-day crowns is that they can be done in one visit.

Traditional crown procedures would take multiple appointments, where you will first need to get your tooth measured and evaluated, wait for the lab to create a crown, have a final crown fitting, and finally have the crown placed.

You may be asking yourself "how long does a same day crown take?" The whole process takes around 60 to 90 minutes, and you do not have to wait for weeks until the dental lab crafts a permanent crown.


Simple Procedure

Dentist visits can get daunting and sometimes scary. Not everyone is comfortable sitting in the dentist's chair.

If you are one of those people who want to get it over and done with on the same day, then CEREC dental crowns are definitely for you.

These crowns are fitted instantly and you won't have to worry about undergoing other procedures before getting the crown inside your mouth.


Preserve Your Existing Teeth

A dental crown serves as protection for sensitive teeth - and that's exactly what a CEREC dental crown does too. You no longer need to struggle with your meals or chew your food only from one side of your mouth because you have sensitive teeth on the other side.

Once you have a good quality CEREC dental crown, you will be able to eat your food without worrying about causing any additional damage to the tooth.

Crowns, while great for visual purposes and restorations, are also important when it comes to help repair a damaged tooth and preserve the natural function of the tooth itself.


Are CEREC Crowns Good for Molars?

CEREC crowns are good for front and back teeth. This means they are perfect for molars as well.

While putty impressions can have several errors, the CAD/CAM technology leaves little room for mistakes as it is amazingly accurate.


Are Same Day Crowns as Good as Lab Crowns?

Same-day crowns and lab crowns are made from the same materials. The quality of the crowns is equal. However, a same-day crown provides quicker and more accurate results than lab crowns.


How Long Do CEREC Crowns Last?

On average, your CEREC crowns can last between 10 to 15 years. CEREC crowns are durable and long-lasting, and Singing River Dentistry assures the best quality crowns with lasting results.

Porcelain and ceramic are durable materials that can create excellent quality crowns that last long and look natural.


Schedule a CEREC Appointment with Your Tuscumbia, AL Dentist!

Looking for CEREC same-day crowns in Tuscumbia, Alabama? Call us at 256-712-2240 to schedule an appointment. Our dental experts have the necessary skill and technology to provide high-quality, quick, and long-lasting results.