Dental Services

Tuscumbia, AL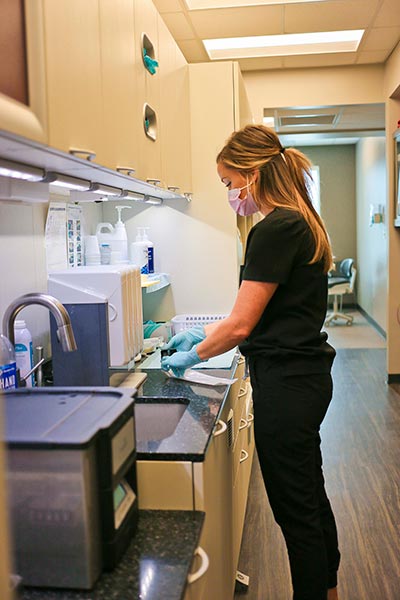 The importance of oral health cannot be overstated. Healthy gums and strong teeth are tell-tale signs of good oral and overall health.

Daily brushing and flossing can keep bacteria under control - but it is not so efficient against tartar and plaque buildup. Our doctors can take care of this for you.

You may be wondering about other dental services for yourself or a family member. At Singing River Dentistry, we provide many dental services, such as implant-supported restorations, bridges, dentures, and more, for both children and adults.

If you are near the Tuscumbia, AL area, please read further about what dental services are available at our clinic.


What is Family Dentistry?
The benefits of family dentistry are far-reaching, especially for those who have children. Just like general health, our oral needs may differ from those of others depending on age, diet, and other medical conditions.

Families with children and senior members will find that keeping up with the oral health needs of every person in the family can be a daunting task.

Family dentistry procedures entail everything that you may need as a patient but centered on families and their collective needs.



Family dentists receive special training, so they are able to attend to patients of all ages. Having a family dentist means everyone in your family can have their oral health care needs met in a single appointment. Your family dentist will also be in a much better position to offer and suggest treatments as they are aware of the entire family's dental records.

A family dentist can also educate children and seniors on oral hygiene habits.


What is Cosmetic Dentistry?
Cosmetic dentistry focuses on improving the appearance of your teeth with the help of dental restoration treatments. They are typically elective, meaning patients choose to undergo them rather than it being a necessity. However, in case of injury or accident, it might be necessary to restore the appearance and functionality of damaged teeth.


If you are unhappy with the way your teeth look, then you are the perfect candidate to enjoy the benefits of cosmetic dentistry. Yellow, chipped, or crooked teeth are some of the main reasons people pursue cosmetic dental treatments.

Some popular cosmetic dentistry procedures include
Visit our Cosmetic Dentistry page at Singing River Dentistry to learn about additional procedures.


What is Restorative Dentistry?
Restorative dentistry includes procedures that focus on repairing or restoring damaged parts of your oral cavity.


Common restorative dentistry procedures include

Benefits of restorative dentistry cover a different part of the spectrum than cosmetic procedures.

While each restorative procedure is different, some are more common than others.

Dental bridges and dentures were quite common until dental implants shook the market with their innovative technology.

These days, dental implants are considered the pinnacle of dental restoration due to their success rate and longevity.

Many people with missing, damaged, or decayed teeth opt for implant-supported restorations as they offer a permanent solution at a reasonable price.


Dental Implants
What Are Dental Implants?
Dental implants are posts made from titanium that are placed in your jaw to act as an artificial root for the replacement crown.


Unlike bridges or dentures, dental implants offer a more reliable restoration that can serve you a lifetime. During the surgery, your dentist will secure the implant in your jawbone using special surgical tools.

Once the implants fuse with the gum tissue, our doctors will attach the replacement crown.


How Long Do Dental Implants Take?
The entire procedure can take between three to nine months. Some procedures may last longer if the patient needs additional treatments or is dealing with other underlying medical conditions.
What Are the Benefits of Dental Implants?
| | |
| --- | --- |
| • | With a success rate of 95 percent, dental implants are the best choice for dental restoration in the market. |
| • | The most significant benefit of dental implants is that they can imitate the aesthetics and functionality of natural teeth extremely well. |
| • | Additionally, they help to restore facial appearance that may have undergone changes due to missing or damaged teeth. |
| • | Patients who get dental implants can also feel their natural bite force and chewing pattern coming back as the implants settle in. |
All on 4
What Is All on 4?
The All-on-4 dental restoration can help you if you are missing two or more adjacent teeth. This procedure can restore both upper and lower sets of teeth using just four implants. These implants act as support for the replacement teeth. When it comes to full-arch teeth replacement, All-on-4 is considered the superior treatment option.
How is All on 4 Different?
What makes this technique different from multiple tooth implants is that it uses posterior implants that are tilted at a 45 degree angle towards the rear of the mouth. This allows the All-on-4 dental implant technique to be used on patients who do not have adequate bone density for conventional dental implants.
Choosing the Right Dental Service
Dental emergencies can happen to anyone and if you are not prepared to handle an unexpected issue, it may end up impacting your oral and general health drastically.
While some dental issues need urgent attention, others might develop slowly over time if left untreated. By going to your dentist appointments regularly, you can stay on top of your oral health needs throughout the year.
Having a dedicated dentist can also help you take the necessary steps during a dental emergency.
If you have children and seniors in your family, you might want to consider going to a family dentist, as they are better equipped to handle your oral health needs than general dentists. Additionally, you may find it easier to take your entire family to the same practice for regular dental check ups than driving to different locations for each member.
Oral health has many consequences in our daily lives, whether we like to admit it or not. Maintaining good oral hygiene is not only good for your self-esteem but it also benefits your overall health in general.
Book Your Next Dental Service at Singing River Dentistry!
At
Singing River Dentistry
, we know how important your oral health is and will do everything in our capacity to ensure that your dental care needs are met in every regard. If you are around the Tuscumbia, AL area, call today to speak with our staff or to book an appointment over the phone at
256-712-2240
.