Teeth Whitening

Tuscumbia AL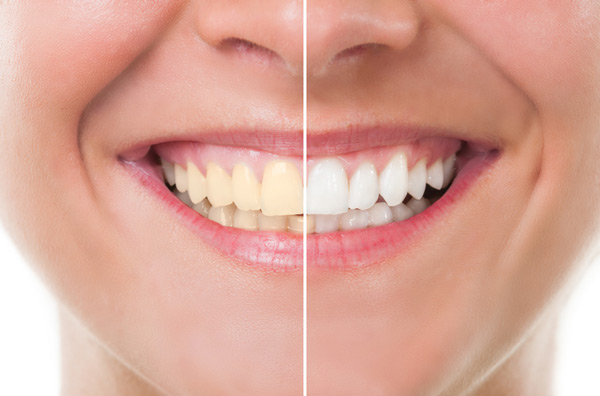 A bright, white smile can do wonders for your confidence, but over time, teeth can become stained and discolored due to the foods we eat and drink, smoking, and certain medications.

Fortunately, there are ways to restore your smile with in-office teeth whitening treatments.

Professional in-office teeth whitening at our Tuscumbia, AL dental practice is a safe and effective way to lighten or remove stains from the surface of your teeth without damaging them.

At Singing River Dentistry, we offer teeth whitening and many other cosmetic dentistry services.


How Does Professional Teeth Whitening Work?

During a professional teeth whitening, dentists can safely use higher concentrations of bleaching gel under carefully monitored conditions for maximum effectiveness without any discomfort or pain - saving you time and hassle so that you can quickly boast an impeccable new smile.


How Long Does Professional Teeth Whitening Last?

Teeth whitening can be a great way to brighten your smile, but it's not necessarily permanent. The effects of the procedure may last from several months to as long as three years - depending on the individual and their lifestyle habits.

Unfortunately for coffee lovers or smokers, certain food and drinks can lead to teeth discoloration more quickly than those who don't partake.


Is Teeth Whitening Safe?

Teeth whitening can be an incredibly effective way to revitalize your smile instantly. However, it would be best if you pay attention to potential side effects.

Although rare, certain treatments used for whitening may cause sensitivity or even burns on the gums in extreme cases.

Additionally, enamel damage can occur if care is not taken to ensure the treatment is within the recommended timeframes.

Therefore, it's important to consult with one of our dentists before beginning any teeth whitening regimen and be mindful of potential risks.


Does Teeth Whitening Damage Your Teeth?

The part of the tooth responsible for its color is called dentin, which lies underneath the enamel.

Whether you've been drinking coffee or tea for too long, or your smile naturally has a slightly darker hue than you'd like, there are natural and effective ways to turn your teeth into pearly whites. Teeth whitening does not damage your teeth.


How Long after Teeth Whitening Can I Eat Normally?

After cosmetic dentistry, you should skip any sticky sweets or acidic foods for a day or two. After 24-72 hours, you can go back to your regular healthy diet.


Foods and Drinks to Avoid After Teeth Whitening

If you desire to keep your teeth sparkly and bright, it's important that you make a few changes in your diet.


•
Avoid having dark beverages like coffee or tea, as these can stain the surface of tooth enamel quickly.These drinks contain pigments lodged in the small pores of your teeth, leading to staining - not what we want when trying to brighten up your teeth.


•
The same rule applies to grape juice as well. However, if you can't give these drinks up completely, consider sipping through a straw or rinsing them out with water afterward as an alternative solution.


•
When looking to maintain your teeth after whitening, it's best to pass up sauces that could spoil their shine. Stick with lighter options such as white vinegar or tahini if you want a burst of flavor without risking stained teeth.


•
To keep your newly whitened teeth shining bright, steer clear of acidic foods. These key offenders can break down weakened enamel and lead to sensitivity.

Among the top culprits are citrus fruits like lemons or oranges, tomatoes, pineapples, and other pickled items such as sauerkraut, plus processed meats - all best avoided post-whitening session.
Schedule Teeth Whitening with Your Tuscumbia, AL Dentist!

Look no further if you've been searching for a solution to help restore your sparkling pearly whites. At Singing River Dentistry, we offer professional in-office teeth whitening technology that is proven to work wonders. Call us at 256-712-2240 for more information or an appointment today.