Dental Implants Materials

Tuscumbia, AL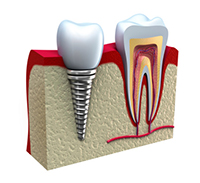 Dental implants are a premium tooth restoration option for damaged or decayed teeth. They are screw-like posts that provide a robust foundation for replacement teeth.

An abutment is fixed to the top of the dental implant in order to link it to the artificial tooth. Dental crowns usually serve as replacement teeth and are installed atop dental implants.

Dental implants were first exclusively made of titanium. However, with advancements in dentistry, implants are now made of different materials.

The materials used to create dental implants have undergone extensive research before being approved. Their microstructure and surface composition were thoroughly examined to ensure durability. Ideally, implants materials should be biocompatible and resistant to fracturing and wear and tear. Here is an overview of common dental implant materials:


Titanium

Titanium was originally used to create dental implants. It is a light yet sturdy material that bonds well with the jawbone. This trait is known as biocompatibility.

These implants can either be commercially pure, or an alloy. Pure implants typically have trace elements, such as iron, oxygen, nitrogen, and carbon. Titanium alloys, on the other hand, are combined with elements like aluminum and vanadium.

Titanium implants are known to have a success rate of 95%, and can last a lifetime if good oral hygiene is maintained. However, there is a small ratio of people who have allergic reactions to titanium. There is also the risk of a dark outline under the gums being visible if the gums recede or thin out.

Implants made of titanium consist primarily of two pieces: the screw that serves as a tooth root replacement, and an abutment, which is used to attach the screw with the crown. Each part can be individually inserted deep inside the jawbone.


Zirconia

Zirconia is a relatively recent implant material, and shows promising results. These implants began to be used extensively in the early 1990s. Like titanium, this material is also biocompatible.

Zirconia is hypoallergenic, which implies that it does not result in any allergies or sensitivities. Moreover, zirconia implants resemble original tooth color, so there is no risk of a dark material being visible if gums were to recede.

In contrast with titanium implants which are two-piece, zirconia implants consist of one single part. The quality also implies that the procedure can be wrapped up in only one visit.

However, zirconia implants may be more difficult to fix. Healing may also be more complex as compared to a titanium implant, as a movement could interfere with osseointegration, which is the process of the jawbone fusing with the implant.

A zirconia implant has to be installed at the correct angle and location, and considering the bone volume is crucial before opting for it. These implants may not be suitable for patients with a weak jawbone.

Your dentist will thoroughly examine your mouth to determine which type of implant may be best for you. If a bone graft is required, choosing a titanium implant may be a safer option. On the other hand, if you are allergy-prone, then zirconia implants are better for you. If you think you need an implant to restore your tooth, or other restorative services, schedule an appointment with us at Singing River Dentistry by calling us at 256-712-2240 today.