Tooth Loss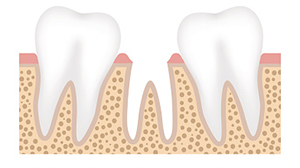 As we grow older or neglect to care for our teeth, tooth loss can occur. There are many causes of tooth loss, and sometimes a person may experience it for multiple reasons at once. Despite this, it is possible to maintain oral hygiene and prevent excessive tooth loss.


What Causes Tooth Loss?

The most commonly cited reason for tooth loss is periodontal disease. You may hear it referred to as gum disease as well. At least 70 percent of missing teeth in patients have been attributed to gum disease.
Gum disease happens when a person does not practice regular dental cleanliness. Not using a toothbrush or smoking can lead to gum disease.
Even if some patients do not have periodontal disease, cavities may be the reason. Sometimes, patients have both problems at once and lose more teeth.
Physical injuries from intense sports can also cause teeth to be knocked out. Examples include football, combat sports, and more. Occasionally, eating hard items makes people lose teeth, though this is not as common.
People who use their teeth to open objects also risk having teeth detached from their mouth. This is why you should not use teeth to cut threads and pry open packages.
Neglecting professional dental care is another leading cause of tooth loss. Professionals can detect problems with your teeth much earlier and treat them quickly. By not staying on top of their dental appointments, a person will only detect cavities or tooth decay when it becomes too late.
Age is also a factor, as patients over the age of 35 experience higher rates of tooth loss. While it does not mean all older patients lose teeth, they can still brush and floss daily to prevent it. Wearing dentures has also been found to increase the chances of tooth loss.


How to Prevent Tooth Loss?

The best weapon against tooth loss is to practice proper oral hygiene. Regular brushing, flossing, and dental appointments are capable of addressing problems.
Avoid using tobacco products, especially smoking. Smoking is linked to increased tooth loss risk.
Alcohol consumption can be pleasurable, but excessive drinking can cause oral cancers. These cancers can attack your jawbone and increase tooth loss risk. If combined with tobacco, there is an even higher risk.
If you unfortunately do lose some teeth, there are still ways to have a perfect smile. Our dentists can prescribe dental bridges or implants.
Dental bridges are designed to bridge the gap between your teeth. They are usually made of porcelain to blend in with your teeth's natural color. There are a few types of dental bridges available.
Getting dental implants is another way to avoid embarrassment. Implants take longer to integrate with your jawbone, and you need to take care of them. However, they look natural and tend to be hard to detect.


What Should I Do if I Lose Teeth?

Visit us at Singing River Dentistry for dental care and advice. Our dentists are experienced in treating tooth loss and preventing it. Please call us at 256-712-2240 to learn more.